How does ALSWA work?
The Aboriginal Legal Service of Western Australia (Inc.) (ALSWA) provides legal representation and support services for Aboriginal and Torres Strait Islander peoples in Western Australia, including advocating in policy and law reform in submissions, at conferences and in the media.
ALSWA is funded by the Australian Government, through the Commonwealth Attorney General's Department. The contracts between ALSWA and the Australian Government determine what work ALSWA must do.
The "boss" of ALSWA is the Board of Directors, made up of Aboriginal peoples from throughout Western Australia. Representing different regions of the State, each member is elected by his or her local Aboriginal and Torres Strait Islander community. You can apply to vote, or to nominate yourself for the Board of Directors, through your local ALSWA office.
ALSWA has an Executive Management Team who are responsible for the day to day operations of ALSWA. Dennis Eggington has been CEO of ALSWA since 1996.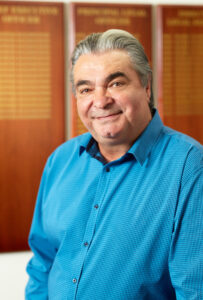 As well as the Perth office there are 11 regional ALSWA offices located in Albany, Broome, Bunbury, Carnarvon,  Fitzroy Crossing, Geraldton, Kalgoorlie,  Meekatharra, Northam and South Hedland.
These offices provide ALSWA criminal law, family law and civil and human rights law work in the country and have access to the resources of the Perth office as required.
There are also administrative staff in different roles, with all staff working together to make sure that the work done by ALSWA runs smoothly.
ALSWA has been striving for justice for Aboriginal and Torres Strait Islander peoples in Western Australia for over 45 years.
Criminal law
ALSWA provides a duty service at many metropolitan and country courts, which includes bail hearings, remands and pleas. ALSWA also provides representation in the District and Supreme Courts
There is a legal advice service during weekday office hours.
Lawyers and Court Officers visit prison and juvenile detention centres to provide prisoners with legal advice and also represent people in trials or appeals.
ALSWA criminal law staff make sure the criminal courts know about cultural matters that apply, such as communication styles and tribal punishment.
Child Protection and Family Law
The main focus of the ALSWA Family Law Unit (FLU) is to assist when Child Protection gets involved.
In some instances, if ALSWA has the capacity, they may also assist in Family Court child parenting matters.
There are certain rules about who a legal organisation like ALSWA can represent. Sometimes we have a 'conflict of interest' because we have been involved in a legal matter in the past.
Therefore, ALSWA will have to check all the parties names before we can say if we can assist.  But don't worry, because if ALSWA can't assist, we can refer to another legal service.
ALSWA (we) can assist parents and family members when Child Protection are looking to remove a child from the family or have already removed the child.
We  can represent parents and family members in the Children's Court when Child Protection ask the Court to make a protection order for a child.
We can also assist parents and family members at pre-birth meetings where Child Protection are thinking about how to protect the baby.
ALSWA tries to help parents and family members come to a good agreement for their children without going to the Family Court where possible, and can also help to refer to mediation services.
Civil law and Human Rights
ALSWA provides legal advice in a wide range of civil law and human rights matters, including discrimination, compensation for injury, police complaints and wills. ALSWA also assists with enquires about the Stolen Generation and Stolen Wages. During weekday office hours our lawyers take instructions and manage files.
PLEASE NOTE: Work in Criminal, Family, Civil and Human Rights Law can only be done if the case fits within ALSWA's contract with the Australian Government and if ALSWA has staff available to help. If your case is not this type, ALSWA staff will refer you to another service for help.
Community Legal Education
ALSWA strives to advance the legal rights of Aboriginal and Torres Strait Islander Peoples through it delivery of Community Legal Education in Perth and regional WA.  CLE operates out of ALSWA's Community Engagement Unit.
Media
All media enquiries to ALSWA are directed through ALSWA's Public Relations/Media Manager.  This role operates out of ALSWA's Community Engagement Unit and all media enquiries should be directed to 0428 948 610.