MEDIA STATEMENT BY THE ABORIGINAL LEGAL SERVICE OF WA (INC.)13AUGUST 2010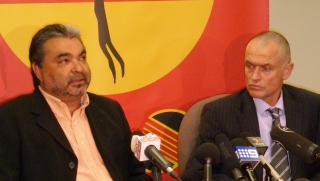 MEDIA STATEMENT BY THE ABORIGINAL LEGAL SERVICE OF WA (INC.)13AUGUST2010
'PBO's will Alienate Community's most Vulnerable' says ALSWA
The proposed Prohibited Behaviour Orders (PBO's) will target those who most need our support, not alienation, according to the Aboriginal Legal Service of WA (ALSWA).
ALSWA is concerned that naming and shaming will further breach the civil liberties of those most vulnerable, including the homeless, those suffering from mental illness and our young people, without justification.
"Our children deserve to grow up in a State that protects their rights, not a State that is morally bankrupt and this Bill contravenes the International Convention on the Rights of the Child" said ALSWA CEO Dennis Eggington.
"I fail to understand why Western Australia wants to import faulty legislation that has already failed in the UK due to its ineffectiveness" said Mr. Eggington.
With Aboriginal peoples already over-policed and incarcerated, ALSWA says that PBO's will further increase incarceration rates for relatively minor offences and unnecessarily increase interaction with the justice system. "There is a complete lack of equity in that people who commit minor offences will be publicly identified, whereas more serious offences will not be publicly scrutinised in the same way".
Mr. Eggington believes that the push for PBO's in WA is emblematic of a Government who refuses to address the root causes of offending behaviour.
ALSWA strongly oppose the introduction of the Prohibited Behaviour Orders Bill 2010 (WA) and calls for this Bill to be withdrawn from Parliament immediately.