13June 2012
MEDIA STATEMENT
Justice: A History of the Aboriginal Legal Service of WA
Winner of the 2012 Margaret Medcalf award
13thJune 2012
"Justice: A History of the Aboriginal Legal Service of WA" by Dr. Fiona Skyring has been awarded the 2012 Margaret Medcalf Award during a ceremony at the State Library of Western Australia.
This book explores the forty year history of the Aboriginal Legal Service of WA (ALSWA) and provides an invaluable insight into the important role played by ALSWA within the State's justice system.
Culture and the Arts Minister John Day, who presented the Award to Dr. Skyring, described the book as a powerful work and a compelling read. "This book makes a significant contribution to increasing our understanding of the changes in criminal justice and policing, and to attitudes about racial discrimination and land rights that have occurred in recent times in WA".
Dr. Skyring was honoured to accept the Award, which acknowledges the importance of 'Justice' and the research efforts undertaken to produce such an important historical book.
ALSWA Executive Officer Mr. John Bedford attended the Awards Ceremony and was delighted that the book had been acknowledged with this Award. "There have been so many people involved with ALSWA over the past forty years, and we are thrilled that their stories can now be shared with wider audiences, to provide a greater understanding and insight into the unique role played by ALSWA in this state's justice system".
ALSWA congratulates Dr. Fiona Skyring for her research efforts in writing 'Justice: A History of the Aboriginal Legal Service of WA' (published by UWA Publishing) and acknowledges all who have shared their stories to enable future generations to gain an insight into the beginnings of ALSWA and its ongoing importance today.
ALSWA Media Enquiries to ALSWA Media Officer Jodi Hoffmann 0428 948 610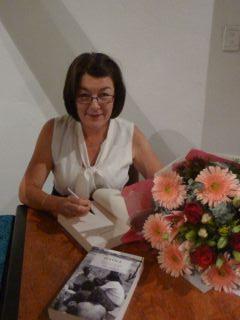 Dr Fiona Skyring (Author) signing books at the Launch